Veevum Beat
Veevum Beat
Drums and Percussion Veevum Style
DETAILS:
FORMAT: Kontakt Library (5.8.1 or above)
SIZE: 6.04Gb Ncw Compressed
FILES: 3181 Audio Samples

Requires Kontakt's full retail version. It will not work with the free Kontakt Player

Sounds And Presets Installation requires PULSE DOWNLOADER
Description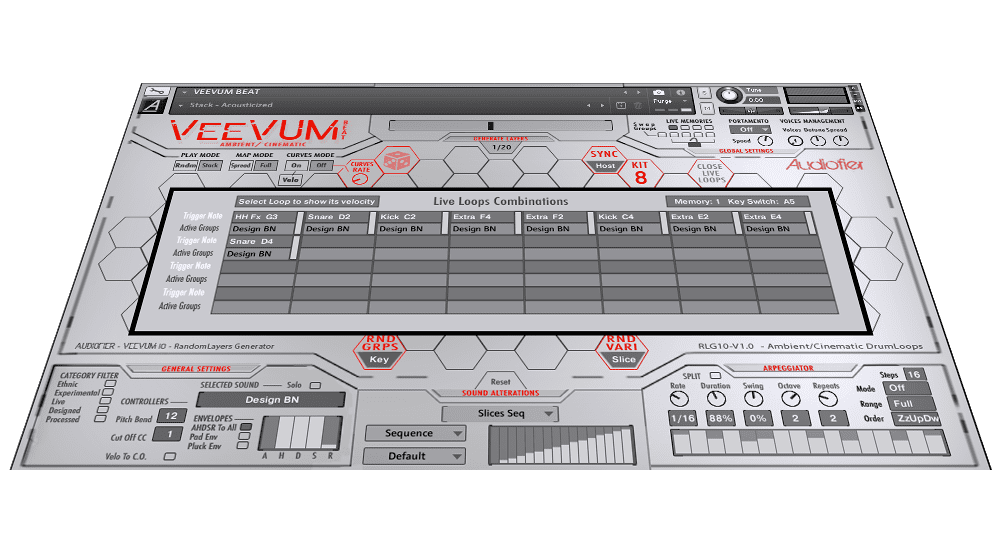 A NEW RHYTHMIC CHAPTER IN THE VEEVUM FAMILY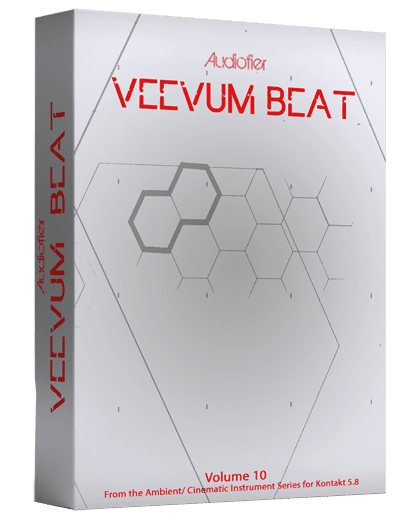 VEEVUM BEAT
Making use of the same playing modes of the acclaimed Veevum Series, VEEVUM BEAT provides exciting new ways to combine drums and percussion loops.
The randomisation capabilities of VEEVUM BEAT make it super easy to create new rhythmic beds which get stored automatically and are ready to be used at a touch of a key.
With Veevum's unique "honeycomb style" interface you will focus more on the sound relying more on your ears than your sight to look for that
specific sound you had in mind. With Veevum you will realise your will spend less time in searching for the sounds through endless lists of meaningless sound names, and pay more attention to what each sound actually sounds like. Now with the brand new VEEVUM BEAT engine, you can create, mix, mangle, deconstruct, randomise rhythmic loops as never possible before.
Unique Sound Generation
VEEVUM's sound sources (100 per instrument) can be selected using the Cells Beehive (Honeycomb), or can be randomised. They can also be filtered according to several categories which are specific for each instrument. The whole patch can be randomised as well, including effects, portamento and unison features.
Playing Modes
When the sound sources are chosen (up to 50 at once), they can be played in several ways: RANDOM will select a different sound source per played note, STACK will play all sound sources at once (FULL STACK) or will distribute all chosen sound sources in the keyboard (SPREAD STACK). FULL STACK also can crossfade each sound source with individual volume Lfo's to create evolving textures (STACK CURVE MODE).
Arpeggiator and Step Effects
VEEVUM hosts an arpeggiator which in conjunction with the RANDOM playing mode will generate sequences of notes, triggering different sounds every time. Also VEEVUM sports a Step Volume and a Step Filter effects.
Convolver and Random Effects
VEEVUM includes the ever present Convolver with unique Impulse Responses which dramatically change the sounds characteristics. A special Convolver will be active on specific notes when the Random FX feature is activated.
More features
VEEVUM also includes Portamento, up to 6 voices unison, Pitch LFO's and Volume AHDSR (per sound or per patch), Delay, Reverb, Phaser, Rotator effects and more…
VEEVUM BEAT includes 3200 Drums and percussion loops ranging from acoustic drums to hyper effected percussion and beyond. Each Sound Hexagon in the honeybee includes 32 loops: 8 drums/percussion tracks in 4 variations. VEEVUM BEAT is the perfect rhythm creator for Ambient Producers and Cinematic Composers.

The entire veevum series is great. i love Audiofier, they make awesome libraries.
Watch VEEVUM BEAT In Action
Let's recap
Sound
100 Loops Groups (Drums + Percussion)
32 loops per Loop Group
Sounds categories filtering.
Randomizable Cells.
Engines
Slices Sequencer
7 Playing Modes (Random, Random+ Persistent, Fixed Random, Stack, Spread, Curves, Velocity Layers)
Editable Live Loops (Recallable Randomisations).
Variations per slices
Randomisation Rate
Volume & Filter Step Sequencers
Arpeggiator
Effects
Convolution Effect
Modulation fx
Reverb & Delay
Random FX
Portamento
Voice Manager
& much more.