Veevum Sync Mod-Tron
Veevum Sync Mod-Tron
Fusion of Mellotron and Modular Sounds
DETAILS:
FORMAT: Kontakt Library (5.8.1 or above)
SIZE: 2.98Gb Ncw Compressed
FILES: 1101 Audio Samples

Requires Kontakt's full retail version. It will not work with the free Kontakt Player

Sounds And Presets Installation requires PULSE DOWNLOADER
Description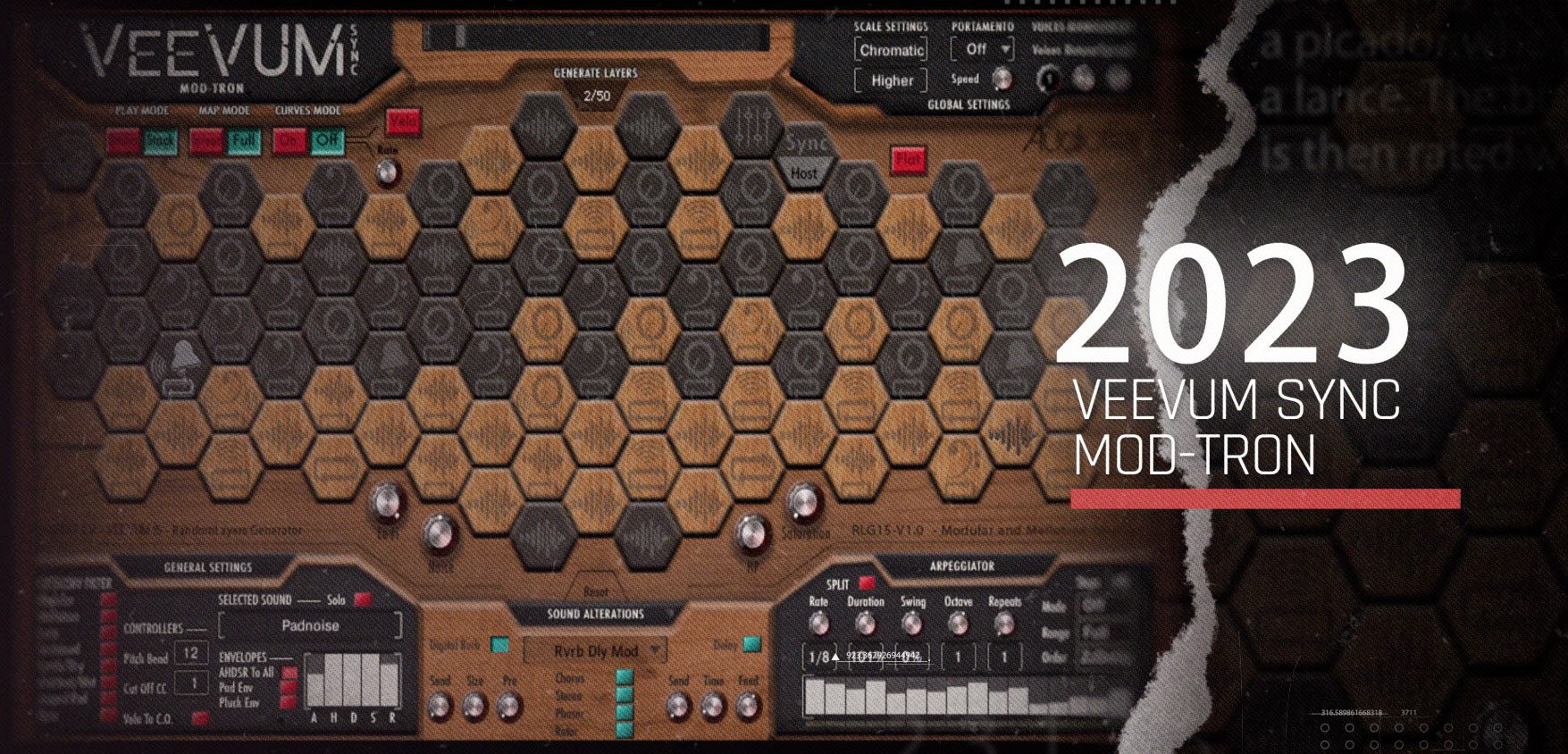 Introducing Veevum Sync Mod-Tron
VEEVUM SYNC is a new spin on our VEEVUM SERIES.
While their predecessors make use of short or long sustains samples, VEEVUM SYNC instruments make use of audio loops, which will sync to your HOST tempo.
Travel through time
To assemble the pool of sound sources included in VEEVUM SYNC MOD-TRON, we experimented with Modular Synths, and monophonic "Moog" type sounds to iconic Mellotron-ish flutes and vocals, and everything in between.
Then we processed the recordings to create sounds that will work perfectly in modern productions and retain a flavour from the past.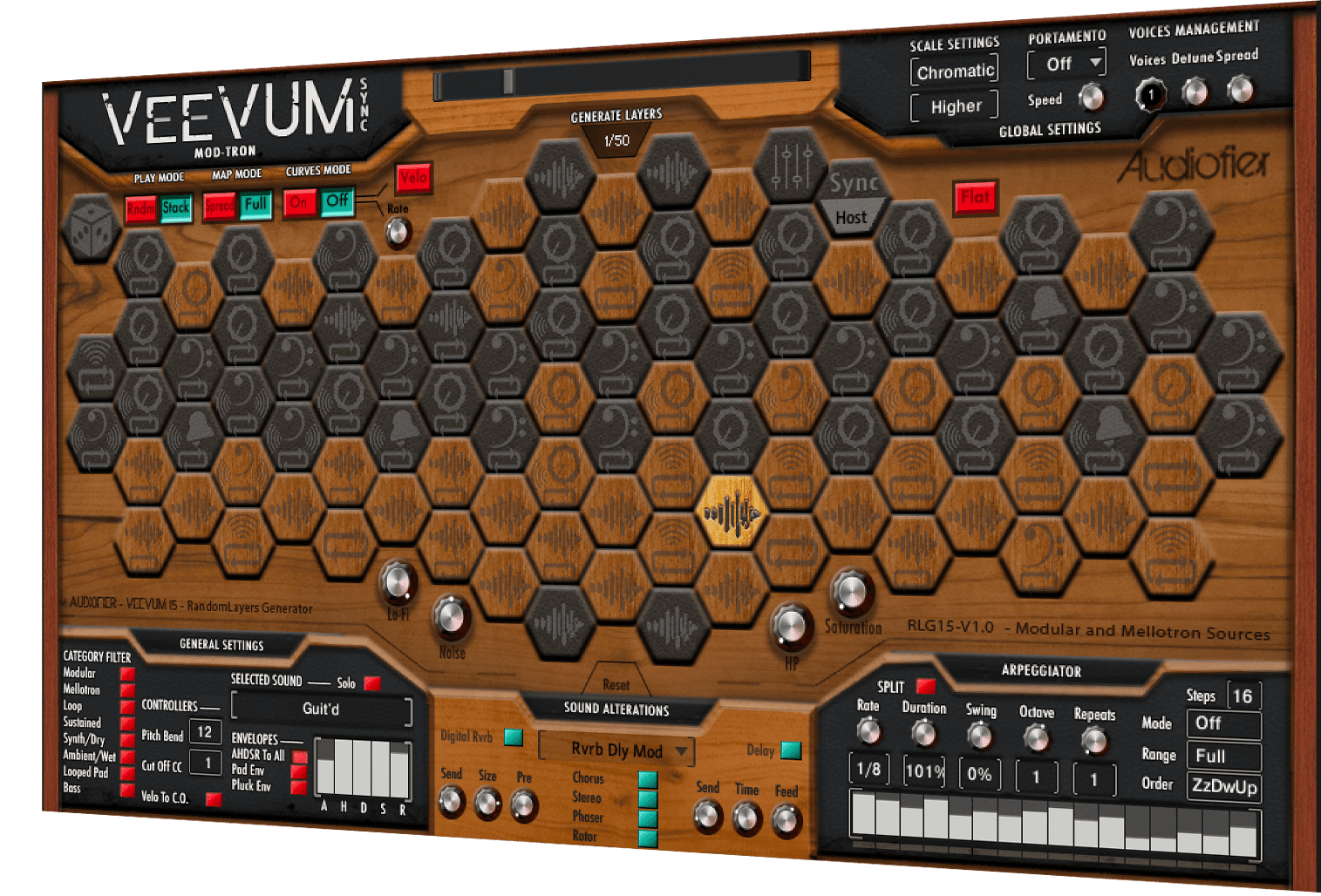 VEEVUM SYNC sound sources include pulses, riffs, phrases, rhythms, arpeggios, sparse melodies and effects. VEEVUM SYNC loops can be divided into slices which will play in random order. or following specific preset patterns. Or a user- defined order. Loops can be synced to HOST tempo or play double speed or half speed. This addition to the VEEVUM SYNC family hosts an amazing variety of processed Vintage Analog Synths and Mellotron Sounds and Loops: a dive into the past, with a look into the future.

Making use of the same Engine of the acclaimed Veevum Sync Series, VEEVUM SYNC – MOD-TRON provides exciting new ways to combine Loops and Sustained Sounds. The randomisation capabilities of VEEVUM SYNC make it super easy to create a new patches at the touch of a key. VEEVUM SYNC – MOD-TRON also includes the new Boost control to add fatness and vintage trebles, plus Saturation control and High Pass Filter to shape the sound further. As all other Veevum Sync instruments, it retains the sound sources mixer panels for even more control of all sound sources at once.

Combine several loops at once to create evolving and rhythmic waves of sounds in the CURVES MODE. Play the chosen loops in RANDOM MODE to spice up your tracks with surprising ways.

Generate new combinations of loops with a click of a button to spark your creativity in unimagined ways.

Deconstruct and rearrange the loops slices in the new VEEVUM SYNC's SLICES SEQUENCE panel, using the randomisation features and the factory presets.

Manipulate all the sounds with the extensive VEEVUM SERIES sound design features, using effects, convolutions, Random FX, Step Filter, Step Volume and more.
You can even arpeggiate loops with the onboard VEEVUM arpeggiator.

Unique Sound Generation
VEEVUM's sound sources (100 per instrument) can be selected using the Cells Beehive (Honeycomb), or can be randomised. They can also be filtered according to several categories which are specific for each instrument. The whole patch can be randomised as well, including effects, portamento and unison features.
Arpeggiator and Step Effects
VEEVUM hosts an arpeggiator which in conjunction with the RANDOM playing mode will generate sequences of notes, triggering different sounds every time. Also VEEVUM sports a Step Volume and a Step Filter effects.
Ornaments
VEEVUM features an Ornamento engine which generates additional notes according to user predefined intervals. Useful to spice up arpeggiations, or to enrich static sustaining pads. The added notes can be quantised to scale with the Scale Manager, to avoid out of key intervals.
Playing Modes
When the sound sources are chosen (up to 20 at once in VEEVUM SYNC MOD-TRON), they can be played in several ways: RANDOM will select a different sound source per played note, STACK will play all sound sources at once (FULL STACK) or will distribute all chosen sound sources in the keyboard (SPREAD STACK). FULL STACK also can crossfade each sound source with individual volume Lfo's to create evolving textures (STACK CURVE MODE).
Convolver and Random Effects
VEEVUM includes the ever present Convolver with unique Impulse Responses which dramatically change the sounds characteristics. A special Convolver will be active on specific notes when the Random FX feature is activated.
More features
VEEVUM also includes Portamento, up to 6 voices unison, Pitch LFO's and Volume AHDSR (per sound or per patch), Delay, Reverb, Phaser, Rotator effects and more…

The new SYNC line of the acclaimed VEEVUM SERIES offers rhythmic loops that can be manipulated and performed with our renown VEEVUM engine and its unique playing modes. The distinctive HONEYCOMB sound structure provides endless combinations of loops that will add movement and excitement to your music.
Watch VEEVUM SYNC MOD-TRON In Action
Let's recap
Sound
100 Sound Sources (Loops +Sustained sounds)
Sounds categories filtering.
Randomizable Cells.
Boost Eq.
Master High Pass Filter.
Saturation Control.
Mechanical and Tape Noises.
Lo-FI effect.
Engines
Slices Sequencer
7 Playing Modes (Random, Random+ Persistent, Fixed Random, Stack, Spread, Curves, Velocity Layers)
Ornaments
Key/Scale manager & Voice Manager
Volume & Filter Step Sequencers
Arpeggiator
Sound Sources Mixer
Effects
Convolution Effect
Modulation fx, Reverb & Delay
Random FX
Voices Management
& much more.