Description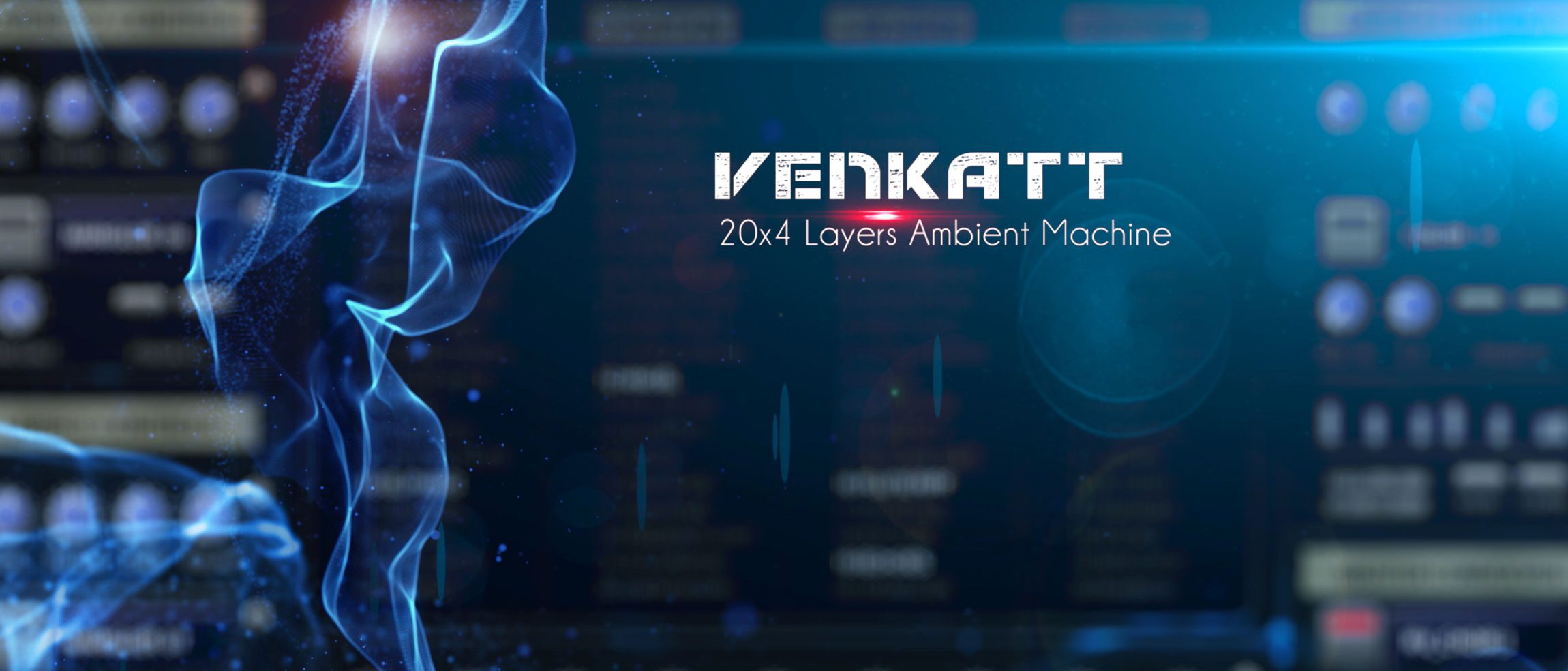 Our brand new Ambient Machine for Kontakt.
Venkatt is a 20 x 4 Layers Ambient Machine, Your next favourite tool for your ambient productions and filmscores.
Our Simplest GUI
All parameters all laid out in a one page GUI. No hidden menus and pages. All the controls you need are at your fingertips.
4 Sound Layers
Venkatt offers 4 sound layers with unique features: The Attack layer includes only Transient sounds. The Sustain Layer includes only sounds without attack. When you combine this two, you are actually combining two different instruments characters and creating a brand new instrument. Imagine a sound with the attack of a zither and the body of a voice. Couple this with 20 reverse sounds and 20 sequenced sounds from the Reverse and Rhythmic layers and you have rich, evolving, unique patches at your disposal.
Up to 20 sounds per layer!
All 20 sounds per layer can be selected and played at once! Can your computer bear the power of Venkatt?
200+ Presets
Explore the world of Venkatt unique sounds with our specially curated presets which show off Venkatt's potential. Edit them to your liking and make them your own.
Create with one click
This feature makes it incredibly easy to create new sounds quickly and makes presets redundant. Choose which parameters will be included in Venkatt's sound generation process, creating new exciting sounds combinations every time.
It also possible to undo the latest randomisation and get back to the previous one.
Vari Convolution Sequencer
Layer 4 offers a sequencer with special features. The dry and Wet sound of the Convolver effect will be controlled by Venkatt to create interesting rhythmic sound changes.
The Sequence can be set to Loop mode, to continue until the key is pressed, or to NoLoop mode, to play only once and achieve creative repetitions effects.
Let's recap
Sound
4 Main Sound Layers.20 multisampled sound sources for each layer, playable at once
200+ Snasphots Presets
Around 2Gb (Compressed NCW)
Endless sound combinations
Evolving, unpredictable soundscapes, pads, sequences and melodic sounds.
Engines
Sequencer for Layer 4 with Vari Conv and Variations Octave features.
Random generation of New Sounds and sequences with the "Create" function.
Undo of Last "created" sound.
Effects
4 Convolvers with 200+ Impulses Responses.
Eq, Chorus, Distortion, Widener, Rotor, Delay effects.
Master Delay and Reverb.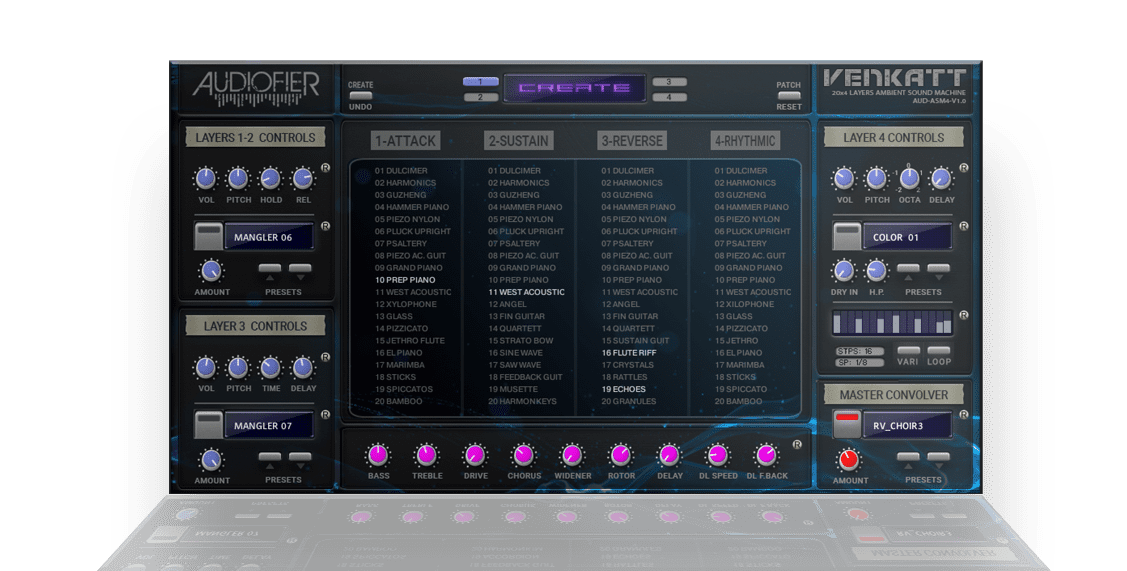 DISCLAIMER: Although Venkatt's sounds palette mostly includes specifically recorded instruments, some of Venkatt's sound sources have been taken from the same recording/sampling sessions as other Audiofier's instruments (hence similar sound sources names). When sounds from past recording sessions have been used, they have been purpousely sampled, edited and mastered to fit Venkatt's architecture and engine's requirements.
Venkatt's engine, sonic manipulation and features are quite different from Audiofier's previous instruments therefore we are confident (as it can be heard in the "Snapshots Showcase" video) that Venkatt will help producers to achieve unique sounds. This is not by any means a repackaged sample library. Venkatt's concept and sound engine are completely different from all Audiofier's past releases.