Description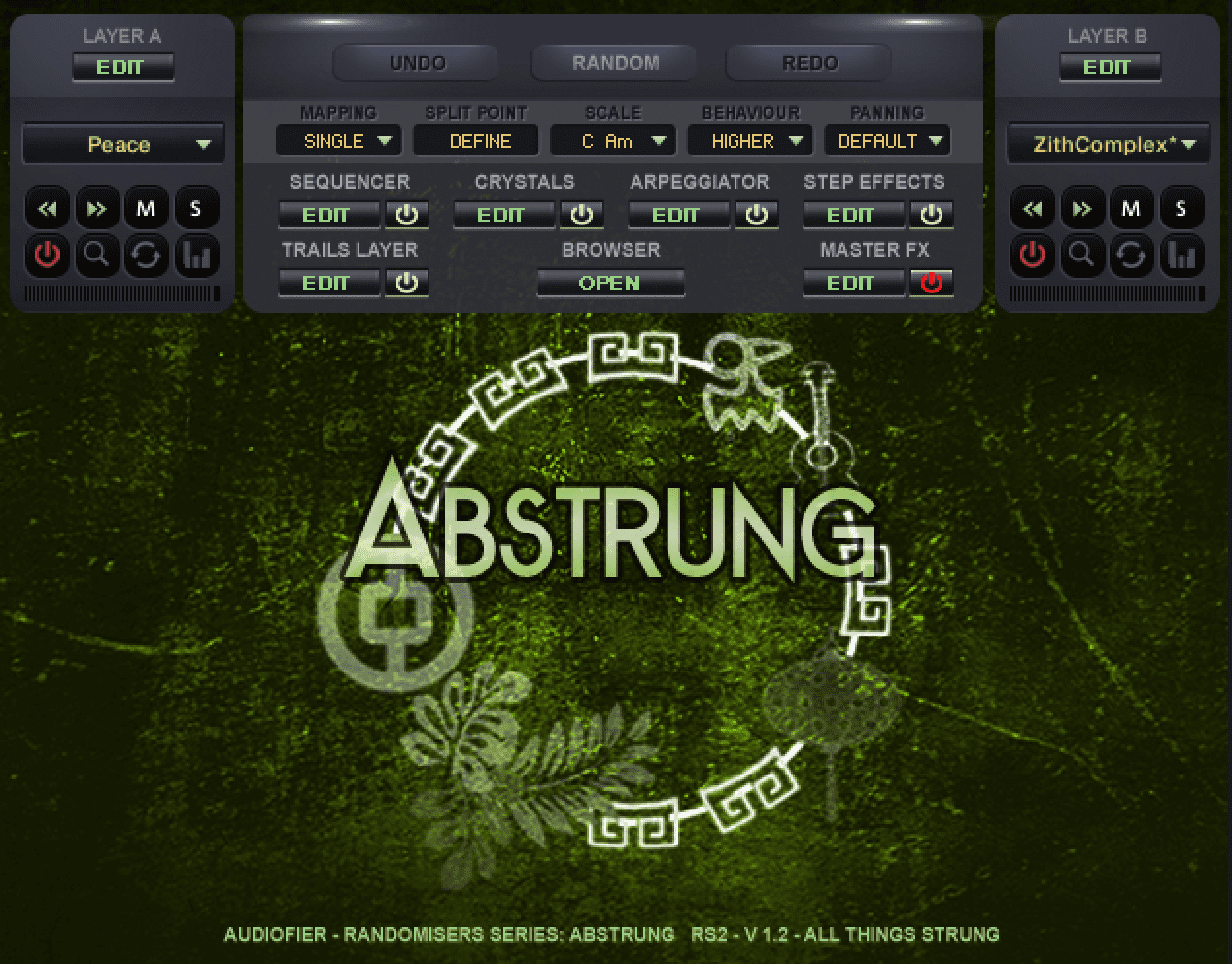 Introducing the Randomisers Series 1.2
RANDOMISERS SERIES is a themed sample library collection for modern producers and composers.

It includes recordings of real, modeled, synthesized and designed instruments, resulting in an original palette of inspiring sounds for creators of electronic and organic music.

The 1.2 Engine features two multisample, 3 Round Robins Sound Sources, a Twin Step Sequencer, an Arpeggiator (and yes, they work in Tandem!), Step Effects, Trails Layer, a Sequence Midi Drag & Drop function, a Crystal Generator and the trademark intelligent Randomisation function which allows to generate fresh and useful sounds every time.
Randomiser Series (Abstrung, Aerkord, Vesper) is a carefully selected combination of three Kontakt instruments for modern producers and composers. Features like the Randomiser feature makes it incredibly easy to create new sounds quickly and the now available Kontakt snapshots. You can dive into this library or just create great tracks. The new engine is adjustable to support both approaches.
With their latest release, Audiofier offers an affordable entry point to the interesting and vast world of unique hybrid sounds. For anyone delving into the world of hybrid scoring, Abstrung is a no-brainer.
On-the-Fly Reverseable sounds
Reverse sounds on the fly. Adjust the sample start of reversed sounds with the mod wheel.
Mutate Sounds
Mutate your sound layers with 180+ effects included in each of the two new Convolvers.
3 Play modes
Play both sound sources at once (Single map Mode), one per key zone (Dual Map Mode) or randomly (Random Map Mode), creating interesting changing textures.
Randomisation Power
Audiofier's new "intelligent" Randomiser feature makes it incredibly easy to create new sounds quickly and makes presets redundant. Sounds can be randomised fully, or within one or a blend of two of the 5 available sound categories.
It also possible to recall past randomisations and go back and forth in the randomisation history, also recalling past randomisation on the fly.
Fully customisable
Create patches from scratch, with multiple ways of choosing sound sources, including a categorised Sound Browser, which works hand in hand with the randomisation engine to create sounds which are "just right".
Abstrung Sounds Pool
Includes a selection of stringed instruments like GuZheng, Mandolin, Pipa, American Zither, Hammered Dulcimer, Kantele, Acoustic Guitars, Acoustic grand, upright and prepared pianos and Seagull instrument among others. The sound categories include organic real instruments samples, modeled, synthetised, designed and spacey sounds.
Crystals Generator
Generate special delay lines that can be pitched and harmonised in triads, fifths, suspended or random for a total inspiring sound creation! Filter, and blur the Crystals with the Cloud filter. Grains can be more or less pronunced to one's taste. Finish them up with distortion, phaser and an additional delay.
Split personality
Play one or both sound sources per zone with one or two sequencers running. Play pads and sequences at the same time or in split mode. Assign Crystals below or above the user defineable split point. And more…
Step & MasterEffects
Add movement and filtering to pads and sequences with four step sequenceable effects: Filter Cut off and Resonance, Distortion & Formant Filter
Add finishing touches to your sound with Convolution Reverb, two delays, Chorus, Shine, and Lo-Fi effects.
Twin Step Sequencer.
Use two simultaneous step sequencers with 8 memory slots, changing sequence on the fly via keyswitch. Record your sequences by playing, not by drawing.
Spice up your Sequences
Generate random sequences and "improvise" temporary sequences at the tip of a "keyswitch", to spice up some stale repetitive phrases.
Export your sequences as Midi
The Randomisers Series 1.2 includes a System page which gives acces to the Midi Drag & Drop feature. Generate sequences performances, export them on to you DAW and edit them or assign third parties sounds to them.
Arpeggiator fun
Arpeggiate short sounds or trigger sequences with the arpeggiator (yes you can!). Play sequencers and arpeggiator in serial or parallel with 2 different sounds.
Note: Although the following videos will at time display any of the Randomisers Series Instruments, they all have identical features and functionality.
Let's recap
Sound
2 Main Sound sources, plus Trails sound sources
Volume, Pan, Octave and Semitones Shift, Cents Adjust High pass and Low pass filters,
Full linkable AHDSR controls per sound source.
Intelligent Randomiser engine, with undo history
Undo and redo randomisation up to 1000 undo levels
Undo level counter to jump to a desired undo level
Categorised browser
Selectable playing percentage for Trails layer.
Velocity control for Trails layer.
Pitch Envelope and LFO for Trails Layer
25+ Starters Snasphots
Effects
Master Shine, Saturation, Chorus, 2 delays, Lo-fi, Convolution reverb.
Filter Cutoff, resonance, Distortion and Formant Step effects per layer
One Convolver per layer with 180+ effects
Separate Delay and Reverb for Trails Layer
Engine
Crystals Generator with Pitch, Grains and Cloud functions
Dual Layer Arpeggiator, with ability to trigger Sequencers
Twin step sequencer, with live recording mode, auto save and auto recall.
8 editable twin or single sequences per patch.
Permanent random sequences generation.
Temporary random notes generation for user controlled "improvisation"
Midi Drag & Drop
Master
Key Manager with Multiple scales available
Single, Dual and Random Map mode.
Pan Control: Widen and Random
Multi Output Options
Split Modes
Two Step Sequencers in parallel
One Sequencer and one Arpeggiator in parallel
Arpeggiator Triggered Sequencer
Crystals Above and/or Below Split Point
Arpeggiator and/or Below Split Point
Sequencer and/or Below Split Point
And more…